Web designers and web developers both are in charge of the web page function. Both of them are important for the website industry. But there is a difference and connection between them.
A web designer is responsible for the job of visual. A web developer is responsible for the invisible design of the coding site. Let's discuss Web designers and web developers
Web Designer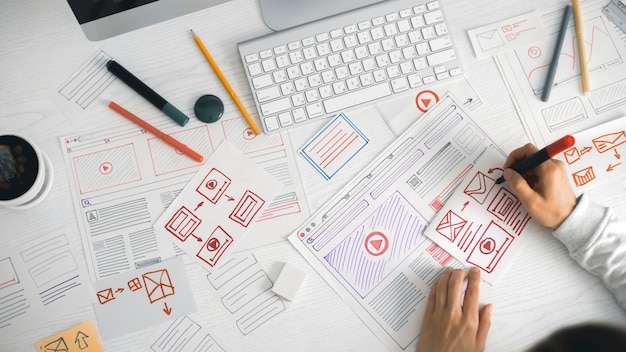 Web designers are responsible for web visual design.
Designers use a variety of tools for web design like Photoshop, Corel draw, Dream weaver to make the website stand out of the crowd.
Web designer encompasses many skills and disciplines in the production and maintenance of websites.
The demand for web designers has been exploding and the industry is currently considered a good one with relation to job prospects and future growth.
Web designer job:
Responsible for overall performance style positioning of the website
Responsible for prototyping design
Carry out graphic design of product catalogue
Carry out activities of advertising design
Assist developers in page design
web developers
A web developer is also known as a front-end developer.
Web development is creating a front-end interface such as web page or app and implementing interaction by using HTML, CSS and Javascript frameworks.
The fundamental responsibility of a web developer is to work with designers, to create pages in HTML, CSS and Javascript based on visual designs. At the same time, they should maintain the complete page and be responsible for the optimization of website performance.
Moreover, they need to determine whether the interface designed by the UI designer can implemented through development technology.  At the same time, they have to communicate with the back-end developer and determine whether the relevant data can be provided according to the content.
A good web developer is a bridge between web design and code.
Web design refers to both creative proportions of the website and its usability. Web designers use various types of tools such as Adobe Photoshop to create the layout and other visual elements of the website.
Web developers take a website design and turn it into a functioning website. Web developers use tools like  HTML, CSS, Javascript, PHP and other programming languages to bring life to design files. web designers must always begin by considering the client's website.
Next web designers create wireframes and then finally move to the design process. Web developers, who are sometimes known as programmers, take the design created and builds a fully functioning website.
Developers take the design and break it into components. They then use entire HTML and more dynamic programming languages such as PHP to develop websites. More advanced web developers choose (CMS) Content Management System like WordPress to streamline development and allow clients an easy medium to update their websites.
B2C Web Design Agency in CA, Fremont- Embtel Solutions Inc
Social media marketing agency in Fremont – Embtel Solutions Inc